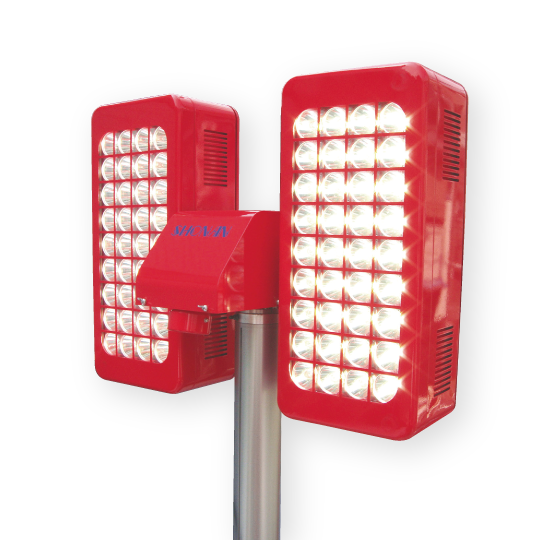 Uses a new type of LED element to reduce power consumption by 25% while achieving a brightness 1.5x that of existing models (Shonan comparison). Provides powerful illumination not only in urban streets, but also in areas more distant from vehicles, including mountain, coastal and riverside areas.
Can also be provided in combination with conventional lights or extendable devices on request.
How to use
Mounted on vehicles for the National Fire Service, Ministry of Land, Infrastructure, Transport and Tourism (MLIT), the police and various regional local governments.
Rescue trucks, ladder trucks, multipurpose vehicle-mounted generators, pumpers, chemical fire trucks, tank trucks, lifesaving vehicles, water-cannon trucks, traffic appraisal vehicles, traffic accident response vehicles, etc.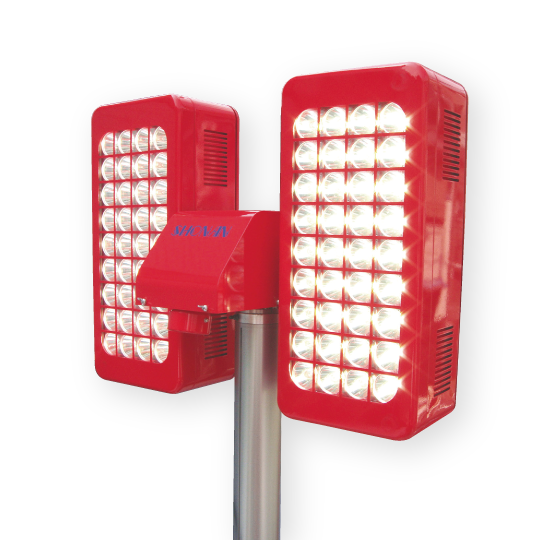 STAR LIGHT/ Floodlight

Uses a new type of LED element to reduce power consumption by 25% while also achieving a brightness of 6,000W, both saving energy and boosting power output. Individual reflectors are also provided for each LED element, achieving a maximum effective light intensity of 1,300,000 cd. This makes it one of the brightest vehicle-mounted floodlights.

Telescopic Pole

The cable-less telescopic pole allows light movement through 180° left and right and rapid operation. 4-step extension up to a height of 6 m.
(Conventional models with cables are also available.)

Operating borad

The combination of a high-power LED and cable-less telescopic pole makes the unit smaller and lighter. It can also be installed in dead space in a vehicle.

Generator

Engine Flywheel PTO drive system. Even if problems arise in either the engine flywheel PTO or transmission side PTO, either the lighting unit or crane winch can still be used. 15 kVA/200 V AC models also available.

Wired remote controller

Simple pushbutton-type remote control.
Special wireless remote control also available as an option.

Option

Upper side lighting

Ideal for checking obstacle to upper parts at night.

Periphery lighting

Illuminates the underside of the light to ensure safety.

Color filter

Can also be mounted with a replacement diffusion lens. Useful in smoke, mist or snow. (Cannot be used in variable beam angle models.)

Right and Left indipendent operating

The angle of elevation is variable independently for left and right.

CCD camera

A camera mounted on top of the light allows a clear appraisal of the situation at the site.

Dimmer function

Four-step simultaneous dimming of the left and right lights allows the lighting to be adjusted to the site conditions.

Converging and Diffusing switch device

Remote control buttons can be used for light diffusion and convergence.